EP-88 is a superbly designed and engineered epoxy machine. Equipped with applicators unique continuously variable B-component pump for exact A- to B-component ratio. Internal mixing of A- and B-component in a static mixer for complete mixture of the products.
OPERATION
Aplicator's EP-88 machine works with an air driven dual-acting piston pump, for both components. The Bcomponent pump is synchronised with the A-component shaft for precise deliver of the B-component, independent of variations in air supply or viscosity of material. The B-component pump incorporates a pressure gauge and pressure relief valve. The amount of the B-component is easily adjusted by a hand wheel, which change the stroke length of the B-component pump. The mixing ratios are continuously variable.
INTERNAL MIXING
Aplicator have used the method of internal mixing of resin and catalyst for several years and this has proven to be the best method of obviating the problems, which can occur with incomplete mixing.
FLUSHING
Cleaning the application tool after use is easily carried out by the built-in pneumatic operated flushing pump. By pressing the flushing button on the pump, the static mixer, hose, handle and application tool will automatically be flushed with no manual handling of hazardous solvents. The machine will be delivered with the application tool that will suit the individual customers needs.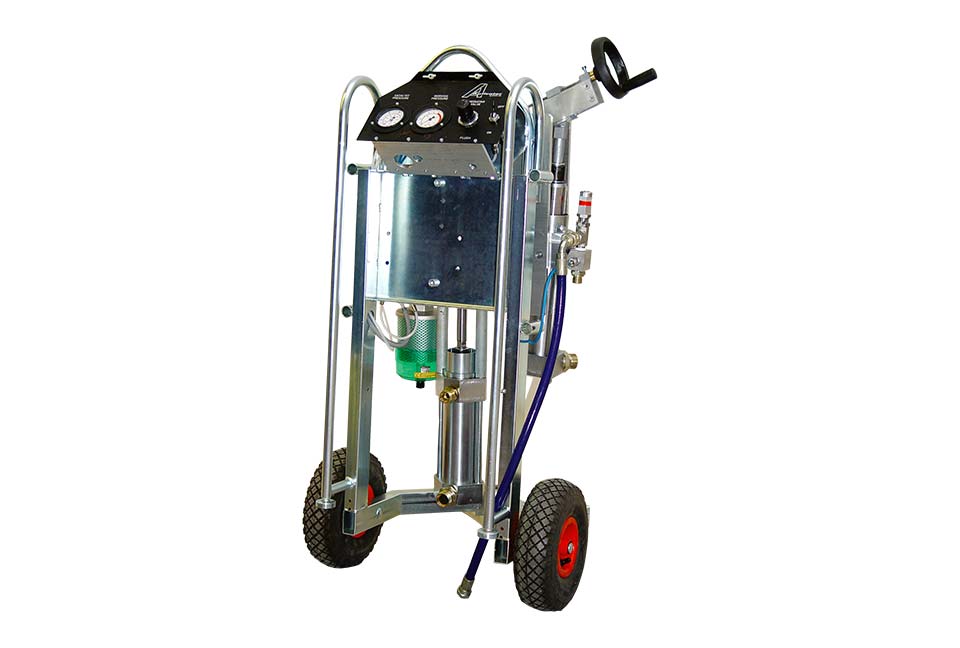 The machine showed on the overleaf might have extra equipment, modifications might have been made since the brochures were printed.